Project Forward Scroller
v.0.2.1 - VFX Artist Joins the Team and More Checkpoints
---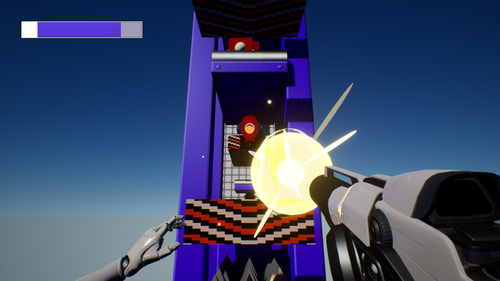 I'm happy to announce that Tua Wester, VFX Artist (Visual Effects), has joined the team. Some of her work is already available in this update, see the changelog below. Welcome aboard Tua!
Also, I'm looking for more 3D Artists, if you are interested or know someone who might be look below for more details!
The two top complaints I get about the game is that there are too few checkpoints and that it feels weird not being able to rotate with the mouse, so in this update, I have accommodated that!
Features
Rotate by quickly dragging mouse left/right:

To make the controls while playing with the mouse/keyboard more conventional I've added so that you can rotate with the mouse. This works similar as in an FPS game, but with the difference that you have to move the mouse quickly left or right to rotate.
Previously, you could only rotate with Q or E, these buttons are still left in the game but will probably be removed in future updates.

More Checkpoints:

I've added two new checkpoints at locations where most players start to get frustrated. Hopefully, this will motivate the majority of players to make it to the end.

VFX:

Player projectile
Charged player projectile
Player projectile trail

Graphics for keyboard control scheme:

Updated the Controls Menu with an image of a mouse and a keyboard that shows which buttons to use.

Change settings with left/right instead of A/Enter in the Options Menu
Bugfixes
What's Next?
I'm still working on the music for the game. It takes a little longer because I decided to attend a new course in music production. I might post an update with the not finally mixed songs for the intro and the demo level in a month or so.
Tua will continue to create VFX for the game, and as soon as we feel we have enough new effects an update will be available.
Looking for Co-Workers
Except for the music, and some minor bugs, I feel that I have made all the work I can for the demo level, now I want to take this to the next level and form a team.
If any of the roles below feel interesting you can contact me on tobnyl@gmail.com
The game is made in Unreal Engine 4
The game is stylized
There is no payment
A big plus if you are familiar with old school platformers (e.g. Mega Man…)
The roles are just a suggestion, if you are interested in more than one that's perfectly fine
Hard Surface Artist:

Blocks
Background environment models
Static enemy models
Other props

Character Artist:

The Protagonist
Walker Enemy
Boss

Animator / Rigger:

The Protagonist
Walker Enemy
Boss

Lighting / Technical Artist
2D Concept Artist
Files
ProjectForwardScroller_v.0.2.1.0.zip
478 MB
Sep 08, 2019
Get Project Forward Scroller